Researchers from the University of Athens found certain doses of alpha-lipoic acid, along with a few other ingredients, helped patients get relief from the discomfort of painful diabetic neuropathy in only 40 days.
An article titled "Effect of α-lipoic acid on symptoms and quality of life in patients with painful diabetic neuropathy," produced the following impressive results according to the authors.
Out of 72 patients included, significant reductions in neuropathic symptoms were shown by reduced NSS, SPNSQ and DN4 scores at day 40 versus baseline. BPI, NPSI, and SDS in terms of work disability, social life disability, and family life disability scores were also significantly reduced. Moreover, 50% of patients rated their health condition as 'very much better' or 'much better' following α-lipoic acid administration. Fasting triglyceride levels were reduced, but no difference was found in body weight, blood pressure, fasting glucose, or other lipids at day 40 versus baseline.
Study Procedure
Administered orally at 600 mg/day for 40 days, the compound they gave the subjects was Nevralip Retard®, which is a blend of these nine ingredients:
alpha-lipoic acid 600mg
3 trace elements (selenium, zinc and chromium picolinate)
5 vitamins (B1, B5, B6, biotin, and vitamin E)
The entire study consisted of two visits – one to determine the initial values for the data, and the second to gauge the effects of the experiment after 40 days of taking the alpha-lipoic acid blend.
Quick summary of findings
The chart below indicates the majority of the 72 patient's Quality of Life (QoL) improved across the board after 40 days taking the supplement.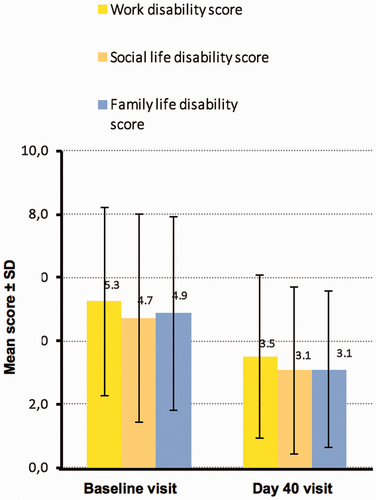 Cautionary note
The scientists noted since no placebos where used could have read the claims by the manufacturer what to expect from the pills.
This was an open-label study, however, without a placebo treatment arm, and as such has inherent limitations, since both the study participants and the health-care providers were aware of the treatment provided. Thus, imagined or random effects of the agent cannot be ruled out. Furthermore, it is unclear if and at what extent the recorded benefits in the present study group would subside after α-lipoic discontinuation.
Concluding remarks
The collaborators made these observations, which summarized what results suggested to them.
In conclusion, the current study suggests that 600 mg/day α-lipoic acid, administered orally for 40 days, to patients with painful diabetic neuropathy, has a clinically significant impact on controlling neuropathy symptoms, fasting triglycerides, and quality of life. Moreover, half of the treated patients rated their health status as 'much better' or 'very much better' following 40 days of treatment.
Addendum
They noted the substance was provided free-of-charge to the patients, so there is no guarantee the 72 people will continue or can afford taking the dosages after the trial ended. Nor are there any assurances on the long-term benefits of the treatment, since no follow-up visits were scheduled.