Doctors often prescribe pregabalin, also sold as Lyrica, to help their patients with diabetic neuropathy, to get relief from pain.
A team of researchers found, "Higher doses of pregabalin have been shown to be more effective in improving pain outcomes but, in practice, failing to appropriately increase the dose can leave patients under-treated."
One source lists the currently recommended dosage levels as, "50 mg three times a day (150 mg/day). The dose may be increased to a maximum dose of 100 mg 3 times daily (300 mg/day) after one week."
In this study, the doctors used levels up to twice that amount, "150 mg/day only; 150 to 300 mg/day; 150 to 300 to 450 mg/day; 150 to 300 to 450 to 600 mg/day; 150 to 300 to 600 mg/day; 300 to 600 mg/day."
When the dosages were compared to the amount of pain relief from each amount, everything else being equal, the graph below illustrates the clear-cut benefits of the higher doses.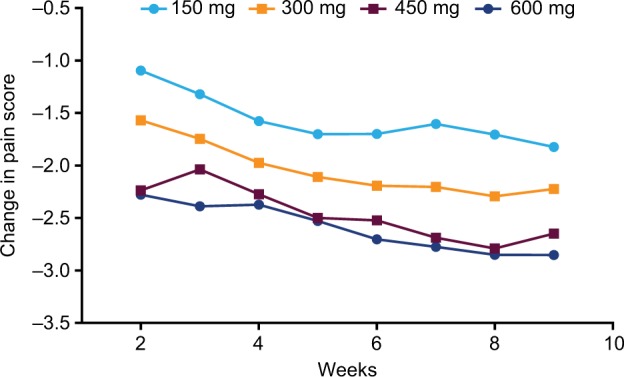 Image and text below courtesy of Dove Medical Press Limited
"Estimated change in pain score from baseline by marginal structural model showing that increasing doses of pregabalin result in a greater reduction in pain score."
For people taking, or thinking of asking about pregabalin, consult with possibly several professionally licensed physician regarding the maximum amount that can be safely tolerated without severe adverse effects.
This latest study concludes,
"Many patients who do not respond to lower doses of pregabalin will respond with notable improvements in pain outcomes when the dose is escalated."
"These data should encourage physicians treating patients with neuropathic pain to escalate pregabalin to the dose that delivers optimal analgesia and tolerable side effects."
Each case presents its own challenges since patients often take numerous other medications, including supplements, which could create dangerous interactions when combined with Lyrica.
Your physician has the final say on the safest dosage after he or she weighs all the possible outcomes of risk versus reward.