An ancient treatment for pain relief, acupuncture, may have some use in the treatment of painful diabetic  peripheral neuropathy according to a research paper published in "Experimental and Toxicologic Pathology."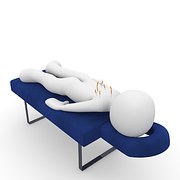 The study showed acupuncture improved nerve conduction and assessment of subjective symptoms in 16 of the 21 patients who received the treatment over a period of one year.
Only 4 of the 26 patients who received the best medical care but no specific treatment for peripheral neuropathy showed any improvement.
Of the other patients, three in the acupuncture group did not change, while two patients demonstrated an aggravation. In the control group seven people had no change and 15 of the 26 exhibited an aggravation.
Another study published in "Experimental and Toxicologic Pathology" indicated acupuncture actually  regenerated nerve cells in rats who had spinal cord injuries.
"The researchers reported electro-acupuncture restored partial function to paralyzed limbs in the injured rats."
Answering a question posed to Dr Weil, he stated that while acupuncture may not regenerate nerve cells, "The short answer to your question is yes, acupuncture can help relieve the pain of peripheral neuropathy."
He added, "A practitioner of Chinese medicine can provide you with herbs that may speed recovery, as well as acupuncture treatments."
Scientists who were funded by the International Pharmacopuncture Institute also reported in a paper released in 2010, demonstrated that, "Acupuncture was significantly more effective than sham for treatment of numbness of the lower extremities, spontaneous pain in the lower extremities, rigidity in the upper extremities and alterations in temperature perception in the lower extremities after therapy."
Later on the authors go on to suggest acupuncture may aid in nerve regeneration, "Acupuncture treatment improved these symptoms, suggesting that it may accelerate the nerve regenerative process in DPN patients."
The British Acupuncture Council advises against seeing acupuncture as a cure-all for peripheral neuropathy, because while some studies were encouraging, others did not give promising results.
In summary they wrote, "Treating nerve damage with acupuncture, however, suffers from the same limitations as any other therapy. If the damage is already considerable there is less chance of reducing the pain and loss of sensation."
The prestigious Mayo Clinic lists acupuncture, along with alpha-lipoic acid, herbs, amino acids and fish oil as potential alternative medical treatments.
Treating a potentially deadly condition such as neuropathy on your own can lead to fatal consequences, so such home-brewed approaches need to thoroughly vetted by consulting experts in the neurological sciences before assuming they will cure your peripheral neuropathy problem.